Eyelid Surgery
If the eyes are the window to your soul, you want to make sure those eyes are reflective of how you feel inside! Tired, drooping, or sagging eyelids with puffy bags can make you look and feel older than you really are! It can also interfere with your vision.
Eyelid surgery can quickly help you regain a youthful appearance. Recovery time is rapid and once healed, the scars are nearly non-existent.
Dr. Greg Ratliff helps patients across the region achieve their goals with eyelid surgery.

Who Needs It?
Men and women who have puffy bags under their eyes or sagging upper eyelids can benefit from eyelid lift surgery. It is important that you have enough skin elasticity. We see patients from their late 30s on up requesting this procedure. An eyelid lift does not rid you of wrinkles around the eyes or crow's feet. Eyelid surgery is often performed in conjunction with other facial surgery procedures, such as a facelift or browlift.
Examples of Before and After Images
Featured Before & After Gallery Images:
Eyelid Lift
This area contains images showing patients before and after they have had their surgery. In order to clearly demonstrate the results of their surgery, images may contain nudity.
CLICK NOW TO VIEW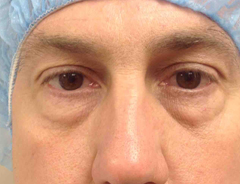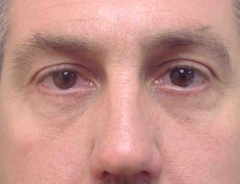 Ht:
70 inches
Wt:
185 lbs
Surgeon:
Dr. Greg Ratliff
Preparing for Your Procedure
Eyelid surgery is a common procedure performed to remove the excess fatty tissue and skin around the eyes, giving you a younger appearance. During your initial consultation, we will discuss your objectives and develop a surgical plan to help you achieve your goals. We will assess your vision and tear production, as well as your overall health during this initial visit.
Surgery -- What to Expect
Your surgery is performed in one of our surgical suites, while you are under general anesthesia. During the procedure, small incisions are made at the outer edge of the eyelid through which fat and extra skin is removed. If you need only fatty pockets below the eyes removed, the incision can be made inside the lower eyelid, leaving no visible scar.
Your eyes are usually lubricated with ointment during the procedure and bandages applied. You may be advised to use cold compresses to reduce swelling and bruising. You may also be advised to use eye drops, since your eyes may be dry or experience burning and itching. Stitches will be removed within a few days to a week after surgery.
Your Results
You can expect to return to work within 10 days, but you may be sensitive to sunlight, wind, and other irritants for several weeks. Healing is a gradual process, and your scars may remain slightly pink for six months or more after surgery. These eventually fade to nearly invisible lines.
Most people see very positive results from eyelid surgery, with a more youthful look that often lasts for years. Minor complications that occasionally occur are double or blurred vision for a few days, pain, and slow healing.