Facelifts
Nothing can stop the aging process, but for millions, a facelift has helped set back the clock by tightening underlying facial muscles, removing excess fat, and redraping the skin on the face and neck. The results of a facelift are often very impressive, leaving you looking and feeling better than you have in years. The effects of sun, stress and time on your face can be dramatically transformed through a facelift procedure. The surgery can be performed alone or with other procedures.
Dr. Greg Ratliff and Dr. Brenda Schiesel provide incredible options for facelift surgery in Tulsa, OK. Dr. Ratliff is one of the most skilled and experienced doctors performing facelift in Tulsa. He is a board-certified plastic surgeon who is recognized for his excellence and leadership with the plastic surgery industry and praised by patients for his expert, one-on-one care. Dr. Schiesel, also a board-certified plastic surgeon, has gained a reputation of excellence from her patients.

Who Needs It?
Both women and men undergo facelifts, most often between 40 and 60; however many procedures are performed on people in their 70s and 80s. It is important to have elasticity in your skin and a good bone structure.
Examples of Before and After Images
Featured Before & After Gallery Images:
This area contains images showing patients before and after they have had their surgery. In order to clearly demonstrate the results of their surgery, images may contain nudity.
CLICK NOW TO VIEW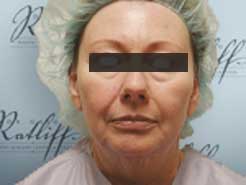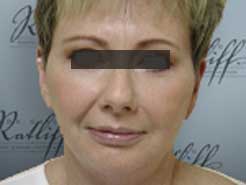 Ht:
62 inches
Wt:
174 lbs
Technique:
Minimal Access Cranial Suspension (MACS)
Short Scar
Surgeon:
Dr. Greg Ratliff
Surgeon:
Dr. Greg Ratliff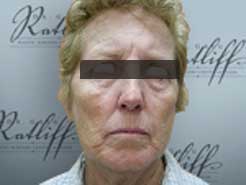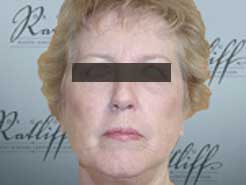 Ht:
64 inches
Wt:
130 lbs
Technique:
Minimal Access Cranial Suspension (MACS)
Short Scar
Surgeon:
Dr. Greg Ratliff
Surgeon:
Dr. Greg Ratliff
Preparing for Your Procedure
While the underlying efforts and goals of the facelift are the same, your facial structure and personal preferences will determine the approach to the surgery. Some people require a full facelift, which involves stretching the skin back down past the ears and tightening the skin back. Others might only need a mid facelift, which addressed the wrinkles around the eyes and mouth, but doesn't address the jowl and neck area. Other types of facelifts that might be considered include a lower facelift and a mini facelift. Following your initial consultation, your surgeon will discuss the possibilities with you and will recommend a procedure that he/she feels will give you the result you desire.
If you are considering a facelift and you have short hair, you may want to let your hair grow out a bit to help conceal any incisions that may be visible, especially if your hair style pulls your hair back away from your hairline.
Surgery -- What to Expect
The surgery will be performed in one of our surgical suites under general anesthesia. Incisions are usually made along or behind the hairline, in front of the ear, and behind the earlobe to the lower scalp. The skin may be separated from the fat and muscle. allowing fat to be trimmed away. The skin and muscle is then stretched and stitched to create a new look.
Following surgery, a small, thin tube may be temporarily placed under the skin to drain any blood that might collect there. Your head will be wrapped loosely in bandages to minimize bruising and swelling.
Recovery will take several days. The drainage tube will be removed after a day or two, bandages removed after several days, and stitches within a week or so. The swelling and discoloration from bruising will gradually fade each day. You will be given specific guidelines for care and activities after surgery. Most people return to work within 10 days.
Your Results
Most people are delighted with the results of their facelift. Many are so thrilled with their results, they share their stories with others, often without being asked. Make sure you follow your surgeons recommendations carefully on postoperative care.