Introducing Triton Laser Hair Removal
Unwanted hair… whether it is on your arms, your back, your legs, or anywhere in-between can be embarrassing and it's time to get rid of it once and for all.
Triton is the only hair removal device that uses multiple wavelengths to remove unwanted hair safely and efficiently. This exciting new technology treats all hair and skin types on any part of the body and it is QUICK!

How Does Triton Work?
During treatment, laser beams of the most common hair removal wavelengths (diode, alexandrites, or yag) pass through the skin targeting the hair follicles. The penetrating energy then heats up the root of the hair, which in turn prevents future hair growth.
What is the Benefit of Triton Hair Removal?
Unlike traditional methods (waxing, shaving, bleaching or using depilatory creams), Triton laser hair remove impacts the root of the problem, rather than offering a temporary solution. Traditional methods require continuous treatments, while Triton only requires a few sessions for reduction in hair growth and smooth and hair-free skin. Triton is the first and only FDA-cleared device to have simultaneous firing of multiple wavelengths on a hair removal machine.
Frequently Asked Questions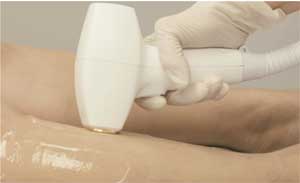 What technologies are on Triton?
Triton has multi-wavelength hair removal energies that work simultaneously to treat a wide range of hair removal concerns. These options assure patients that Triton will be a suitable solution for their individual hair removal needs.
All hair removal concerns can be treated with this innovative, effective and unique treatment:
light hair or skin
dark hair or skin
fine or coarse hair
medium complexion and thickness
stubborn hair
large body areas that require quick treatment times
small sensitive areas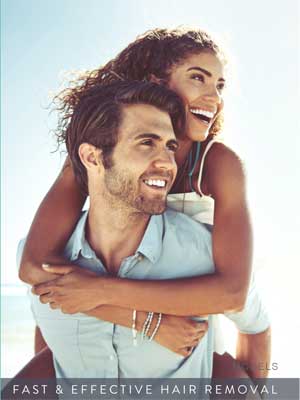 How many sessions are required?
Hair is reduced with each treatment and results are observed after four to six sessions. The number of sessions will differ depending on your hair color, hair type, body area, and skin tone.
Why to I need multiple treatments to achieve hair removal?
All laser hair removal works best when hair follicles are in their mature stage; however, at any given time, your hair is in various stages of growth. By treating in multiple sessions, you can be assured you are targeting the hair at the right time for permanent destruction.
Before and After
Below are some examples of what can be achieved with Triton laser hair removal.