Mommy Makeover Surgery in Tulsa, OK
A combination of cosmetic procedures helps many moms regain their appearance and feel wonderful about themselves again!
You wouldn't trade your children and the experience of being a mom for anything. But it's possible your body has changed in many ways -- some may not exactly thrill you. Often, things end up looking "a little misplaced". That's what a Mommy Makeover with Dr. Greg Ratliff is all about!
Naturally, your choice of a doctor is incredibly important. Dr. Ratliff is board certified in plastic surgery, a member of the American Society of Plastic Surgeons, and a teacher of other doctors. He is a trained plastic surgeon with the experience, judgment, and skills to deliver the finest RESULTS that are possible for you. He has performed these operations thousands of times. Many doctors offering to change your appearance don't have these very important credentials.
You can use the menu on the left to learn more about Mommy Makeover! Then call 918-712-0888 to arrange a complimentary visit with Dr. Greg Ratliff about your individual needs.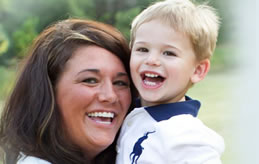 Lindsey Bauer, radio personality from Tad and Lindsey in the Morning, heard on FM Mix 96, recently decided she was ready to take a big step to regain her pre-pregnancy shape after giving birth to her son (2009), and then earlier this year to twins. Follow her progress over the next year as she recovers from surgery and rediscovers the shape she thought she had lost forever!