Precios de aumento de senos

¡Precios de aumentos de senos que no vas a creer!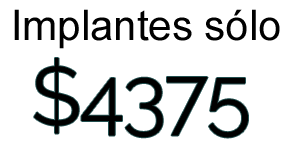 Debido a la excepcional respuesta, hemos extendido esta oferta hasta el final de junio.
Así es, desde ahora hasta el 10 de mayo de 2019, el Dr. Ratliff y el Plastic Surgery Center of Tulsa ofrecerá implantes de silicona por sólo $4375 – COMPLETO. No hay cargos ocultos. La única cosa que pagará por fuera de esto son sus prescripciones postoperatorias.
Esto es lo que necesitas saber:
Implantes de silicona por sólo $4375
El mismo gran cirujano, mismo equipo excepcional
Su consulta es gratuita
La cirugía debe completarse antes del 10 de mayo 28 de junio
Los precios son para el efectivo y equivalentes de efectivo el pago sólo
918.712.0888 | 800.544.3237
Oferta válida hasta el 28 de junio de 2019, no se puede combinar con ninguna otra oferta de Plastic Surgery Center of Tulsa | Inject, an Aesthetics Bar. La oferta es solo para efectivo o equivalente en efectivo.