Breast Implants or Implants & Lift -- How Do I Know?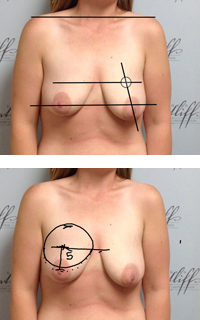 This is one of the most common issues we address with our patients. Often, a patient will come in requesting implants, but in reality, to get the look she desires, needs a lift as well.
That means there are actually two procedures we need to do to meet her goals.
We would like to use some patient before and after images to demonstrate some of the results that were experienced by our patients.
Of course, we will discuss this with you in detail during your initial consultation, but we hope this visual presentation will help you have a better preliminary understanding of where you are currently.
It starts with the numbers
We will take several measurements, which will help determine what procedure(s) and options will help you achieve the look you desire.

Before and After
Below are before and after images of women who had surgery performed at Plastic Surgery Center of Tulsa. In order to achieve the best outcomes, the women in the first group needed to have a short-scar breast lift and implants (done at the same time). The women in the second group were determined to be borderline as to whether or not they needed a lift with implants, and they opted for implants only.
Patients needing short-scar lift with implants
Patient 1
Patient 2
Patient 3
What Does that Mean for Cost?
Adding a lift to the breast implant procedure is not a small addition. The lift increases operating room time significantly (2 hours). You can anticipate an additional $5000 cost when the lift is added to the breast implant procedure.
Patients for whom the short-scar lift was optional, but chose implants only.
Patient 1
Patient 2
Patient 3
What will my scar look like?
This is another common question we get asked. The scarring does vary a little bit and it changes over time. Most of the before and after images on our site were taken six weeks post surgery. Below, you will see the results of two patients, one at 12 months and one at 9 months, which demonstrate more mature scars..
12-Month Scar Recovery
| | | |
| --- | --- | --- |
| | | |
| Before Lift | 6 Weeks After Surgery | 12 Months After Surgery |
9-Month Scar Recovery
| | | |
| --- | --- | --- |
| | | |
| Before Lift | 6 Months After Surgery | 9 Months After Surgery |