Liposuction - Tulsa
Sometimes, diet and exercise aren't enough to get rid of specific areas of fat on your body. If you have been struggling to get rid of these pockets of fat, with no success, liposuction offers an attractive option. Whether your problem areas include your abdomen, hips, buttocks, thighs, or upper arms, using liposuction we can remove stubborn fat cells.
Dr. Greg Ratliff has performed this common procedure for hundreds of patients from throughout the region and has helped them create the new shape they desire.

Who Needs It?
While, it's true that liposuction can permanently remove fat cells from the body, it is not a "weight loss" method. The treatment is most successful for those patients who are near their desired body size, but have areas of fat that remain, despite exercise and proper diet.
Examples of Before and After Images
Featured Before & After Gallery Images:
Liposuction
This area contains images showing patients before and after they have had their surgery. In order to clearly demonstrate the results of their surgery, images may contain nudity.
CLICK NOW TO VIEW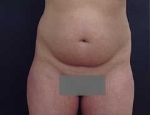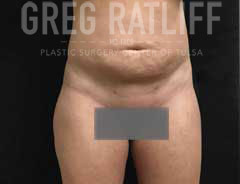 Weight:
160 lbs
Volume Removed:
1400 cc
Surgeon:
Dr. Greg Ratliff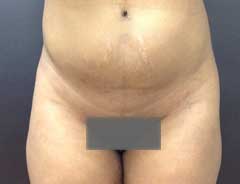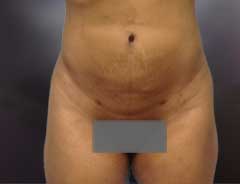 Height:
65 in
Weight:
131 lbs
Volume Removed:
650 cc
Surgeon:
Dr. Greg Ratliff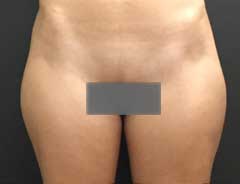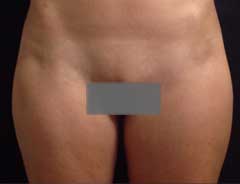 Height:
68 in
Weight:
130 lbs
Volume Removed:
775 cc
Surgeon:
Dr. Greg Ratliff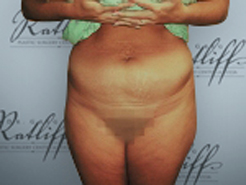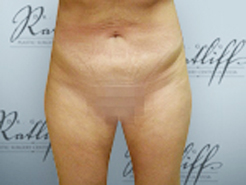 Ht:
67 inches
Wt:
170 lbs
Volume removed: Abdomen:
1025cc
Volume removed: Hips:
R: 950cc L: 750cc
Volume removed: Outer Thigh:
R: 550cc L: 450cc
Volume removed: Inner Thigh:
R: 350cc L: 400cc
Surgeon:
Dr. Greg Ratliff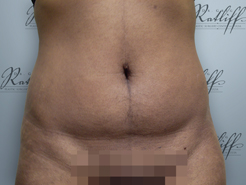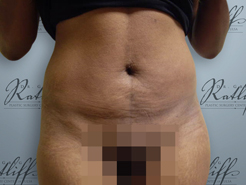 Ht::
64 inches
Wt::
140 lbs
Volume removed: Lower Abdomen:
300 cc
Volume removed: Hips:
R: 240cc L: 180cc
Surgeon:
Dr. Greg Ratliff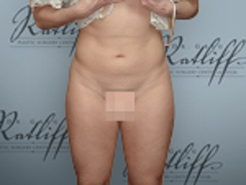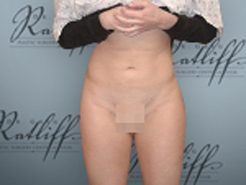 Ht:
64 inches
Wt:
135 lbs
Volume removed: Abdomen:
175cc
Volume removed: Hips:
R: 250cc L: 175cc
Surgeon:
Dr. Greg Ratliff
Preparing for Your Procedure
During your initial consultation, following a thorough examination, we will talk with you about your goals and what body contouring procedures we feel would be most helpful. Often, liposuction is combined with other procedures, such as a tummy tuck or even breast augmentation, to enhance the results you see after your surgery. Liposuction can also be done on several areas of your body during the same session. If you are interested in having the liposuction procedure performed on more than one area, please make sure you have conveyed that to your surgeon.
After our initial evaluation, we will answer any questions you have about the procedure and if, together, we determine liposuction can achieve the look you desire, we will schedule your procedure.
Surgery -- What to Expect
The liposuction procedure will be performed in one of our surgical suites, while you are under general anesthesia. Small incisions are made in the area where the fat is to be removed. A narrow tube is inserted into the fatty deposits, which are broken up and suctioned out of the body.
After surgery, you will likely wear a snug elastic garment over the treated area to control swelling. General discomfort will last approximately a week, but you can return to work within a few days. Most people begin walking and moving normally the next day and return to strenuous activity within a few weeks. Stitches in the incisions will be removed or will dissolve on their own. Be sure to follow all of your surgeon's postoperative recommendations.
Your Results
You will find the area treated will be noticeably different very soon after your surgery and those changes will be even more apparent in four to six weeks, when swelling subsides. Regular exercise and a healthy diet can help keep the fat from accumulating in the area again.