Introducing BodyTite
We all try to look our best. And while diet and exercise are the cornerstones of looking and feeling healthy, they sometimes aren't enough to achieve the body goals we set for ourselves. New technology made available exclusively to board-certified plastic surgeons, allows Dr. Greg Ratliff to offer a new type of procedure, which can give surgical results without the scars! He was one of the first surgeons to offer these procedures in a four-state region and is still among a small group of practitioners who have this technology available.

What is BodyTite?
BodyTite is a minimally invasive procedure that is used to shape, tighten and lift areas of the body without using a scalpel or leaving a scar. You get surgical-like results, without the added downtime. BodyTite uses radio-frequency assisted lipolysis (RFAL) to remove fat from the treated area and tighten the skin, thus addressing shortcomings associated with traditional liposuction or surgical body lifts.
It is a great solution for individuals who are looking to reduce fat without leaving saggy, wrinkly skin. It also helps improve saggy skin after weight loss or due to aging.
Frequently Asked Questions

What Areas Can Be Treated?


If you can imagine it, you can do it: stomach, arms, chest, knees, and inner/out thighs are some of the most common treatment zones. Multiple areas can be treated in one visit. Each zone will take approximately 15 minutes of treatment.

How Quickly Will I See Results?


Results can be seen immediately, with the best results noticeable after 3-6 months.

What Is The Downtime?


Depending on the treatment area, downtime can be from 1-2 days up to 10 days.

BodyTite Effects


BodyTite gently treats fat in stubborn areas, while tightening the skin, helping you sculpt your body into its ultimate shape.

Benefits of BodyTite
No scars
Superior body contouring
Significant body tightening results
Uniform treatment
Consistent results
Less bruising, swelling and pain
Shorter downtime
Improved safety - built-in safeguards, such as real-time measurements of skin temperature, assure high safety levels
Who is a Good Candidate?
BodyTite can be used in just about any area of the body, but the most common areas treated include the stomach, arms, chest, knees and inner/outer thighs.
This procedure is the next best thing to a surgical procedure, for those patients who don't want to have a dramatic surgery!
Anyone is a candidate for BodyTite. But the most successful candidates have been those who have a moderate or small amount of excess fat and skin that they have not been able to lose through diet and exercise. Your surgeon will talk with you to discuss the possibility of using this procedure, which doctors are calling "Game Changing."
What to Expect
BodyTite is a safe and effective minimally invasive procedure, where a wand is inserted under the skin to melt fat inside, while tightening the skin on top. Patients can be assured of a minimally invasive aesthetic procedure with decreased pain, swelling and downtime. There are built-in safeguards that allow the real-time monitoring of skin temperature, impedance levels, energy and cut-off levels. One treatment is needed and results can be seen immediately and continue to improve up to three to six months following the procedure.
Before and After Examples
Before and After images provided by BodyTite.
Breast Tightening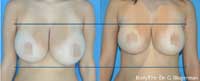 Male Breast Tightening
Abdomen Contraction
Back Flank Remodeling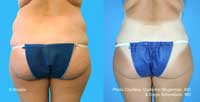 Arm Tightening
BodyTite in the Media